Heavy Duty Recyclable White Mailing Bags 7 x 9, 170 x 240 + Lip

I contain a minimum of 30% recycled plastic!
Thicker non see through mailers manufactured in a strong 100% material, containing a minimum of 30% Post Consumer Waste Plastic and 100% Recyclable. This gauge of polythene is above average for a mailing bag and can be used for posting many types of items. Ideal for mail order, courier services and in particular the legal profession where confidentiality is important. Manufactured from a three layer polythene film, matte white outer/grey inner, rather than the standard mono layer film used for standard mailing bags, these are really tuff envelopes, offering excellent tear and puncture resistance. These bags are 100% recyclable and come with a strong perm glue tape. These can be used for those heavier weight items, like coats, heavy boxes of goods, large books and anything medium to heavy weight which may have sharp corners. With a unique grade of hot melt glue used for sealing the bags, once they are sealed, they are sealed. Bags can be addressed and accept labels, stamps and biro.
Note: Due to the printing process, there is a small printed 'eye mark' on the face of the bag.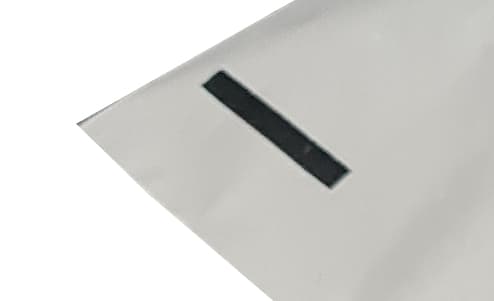 Advice & Usage Guide

Use; The bags will arrive folded or laid flat in an outer Carton. Once you unpack the mailing bags, simply slide or drop your product into the mailing bag. The best method for sealing the mailing bag is to then lay it on a flat surface, lip/glue facing up. Peel off the release tape from the lip which covers the glue and then fold the lip over onto the body of the bag. We strongly advise that you only fold the lip over to where it naturally wants to fold to and no further. If you fold the lip right over and seal it, lets say half way down the bag, then there is a chance that the glue will not form a perfect bond and the bags could come open. We specially treat the mailing bags in the direct area where the lip folds over to as this helps with the bond formed by the glue migrating into the film.
Storage; We recommend that mailing bags with Permanent Tape are stored at a temperature of 15 - 20 degrees and 50% relative Humidity. If the ambient temperature falls to less than zero - 5 degrees then you should ensure that you have a means of warming the mailing bags in use. This because the very cold temperature hardens the glue and so it takes longer to form a bond with the film.
Extra Padding?; If you feel that you could do with a bit more protection for your products in transit due to them being fragile or delicate, then why not try our bubble inserts with these mailing bags. You don't even need to buy the same qty to match as you can pick and use when you feel you need to using bubble lining when shipping your goods! Alternatively we stock bubble wrap and boxes.
Product Specifications:
Size in mm: 170 x 240 + Lip +/- tolerance
Size in inches: 6.7 x 9.45 + Lip +/- tolerance
Opening: on the 170mm side
Glue: Permanent Hot Melt x 1 Strip on the lip
Thickness of the Poly: 75mu/75microns/300 gauge
Qty Per unit: 100 approx

Weight Per Bag: Approx 7 grams +/-

Environmental Impact: 100% Recyclable and Manufactured from a minimum 30% Post Consumer Waste Plastic.

Royal Mail Postal Category: Letter (depending on thickness of contents)

Free Sample? - Sure, just ask. Telephone 01522 300591, E-mail us direct, use our Get In Touch page, or use Live Chat.
Heavy Duty Recyclable White Mailing Bags 7 x 9, 170 x 240 + Lip - Qty 100
Product Code: CX7975
Brand: Poly Postal Packaging Ltd
Sold in units of: 100 Bags
Commodity Code: 39232100
Approx. weight per unit: 0.72 Kg
Views: 68152
Units in stock: 920 remaining
£7.50

---

2 or more units @ £5.63
5 or more units @ £5.00
10 or more units @ £4.94
20 or more units @ £4.63
50 or more units @ £4.50
100 or more units @ £4.38
VAT will be added to all prices at checkout.